steve rosenberg
BBC Russia Editor
When his son was sent to fight in the Ukraine, Sergei begged him not to go.
"You have relatives there. Just reject yourself," recalls Sergei telling Stas, who was already an army officer. "But he said he would go. He thought that he was doing the right thing. I told him that he was a zombie. And unfortunately, life would prove it to him.
Sergei and Stas are not the real names of this father and son. We have changed them to protect your identities. Sergei invited us to his house to tell us his story.
"So he went to Ukraine. Then I started getting messages from him asking me what would happen to him if he refused to fight."
Difficult decision
Stas told his father about a particular battle.
He said that the soldiers [rusos] they had not given them support; they had not collected intelligence; unprepared. They had been ordered to advance, but no one knew what awaited them.
"But for him to refuse to fight was a difficult decision to make. I said, 'You'd better take it. This is not our war. It is not a liberation war. He replied that he would put his refusal in writing. He and several others who decided not to fight were stripped of their rifles and placed under armed guard."
Sergei traveled to the front several times to seek the release of his son. He inundated military officials, prosecutors and investigators with pleas for help.
Finally his efforts paid off. Stas was returned to Russia. He revealed to his father what had happened to him during his detention: how a "different group" of Russian soldiers had tried to force him to fight.
"They beat him and then they took him outside as if they were going to shoot him. They made him lie down and count to ten. He refused to do it. So they hit him several times on the head with a pistol. He told me that his face was covered in blood.
"Then they took him to a room and told him: 'Come with us or we'll kill you.' But then someone said they were going to take my son to work in the warehouse."
Stas was an acting officer when Russia launched its full-scale invasion of Ukraine in February. President Vladimir Putin promised that sanyoneprofessional soldiers would participate in his "special military operation".
But come September all that had changed. The president announced what he called a "partial mobilization," recruiting hundreds of thousands of Russian citizens into the armed forces.
The reasons
Many of the newly mobilized troops complained that they were being sent to the war zone without sufficient equipment or proper training. From the Ukraine there have been multiple reports of deployed Russian soldiers being held, in some cases in basements, for refusing to return to the front lines.
"It's a way of forcing people to go back to the slaughter," says Elena Popova of Russia's Conscientious Objector Movement. "The objective of the commanders is to keep the soldiers there. Commanders only know violence and intimidation. But you can't force people to fight."
For some Russians, refusing to return to the front may be a moral stance. But there is a more common explanation.
"Those who refuse to fight do so because they have already had more than their fair share of action on the front lines," explains Elena Popova. "Another reason is the bad way they are treated. They have been in the trenches for a long time, suffering cold and hunger, but when they return their commanders yell at them and insult them".
Russian authorities have dismissed the reports as fake news. about disillusioned soldiers detained in centers.
"We don't have camps or detention centers or anything like that. [para soldados rusos]"President Putin insisted earlier this month. "This is all hogwash and false claims with nothing to back them up."
"We have no problem with soldiers leaving their combat posts," the Kremlin leader continued. "In a situation where missiles or bombs fall, every normal person cannot help but react, even on a psychological level. But, after a period of adjustment, our men fight wonderfully.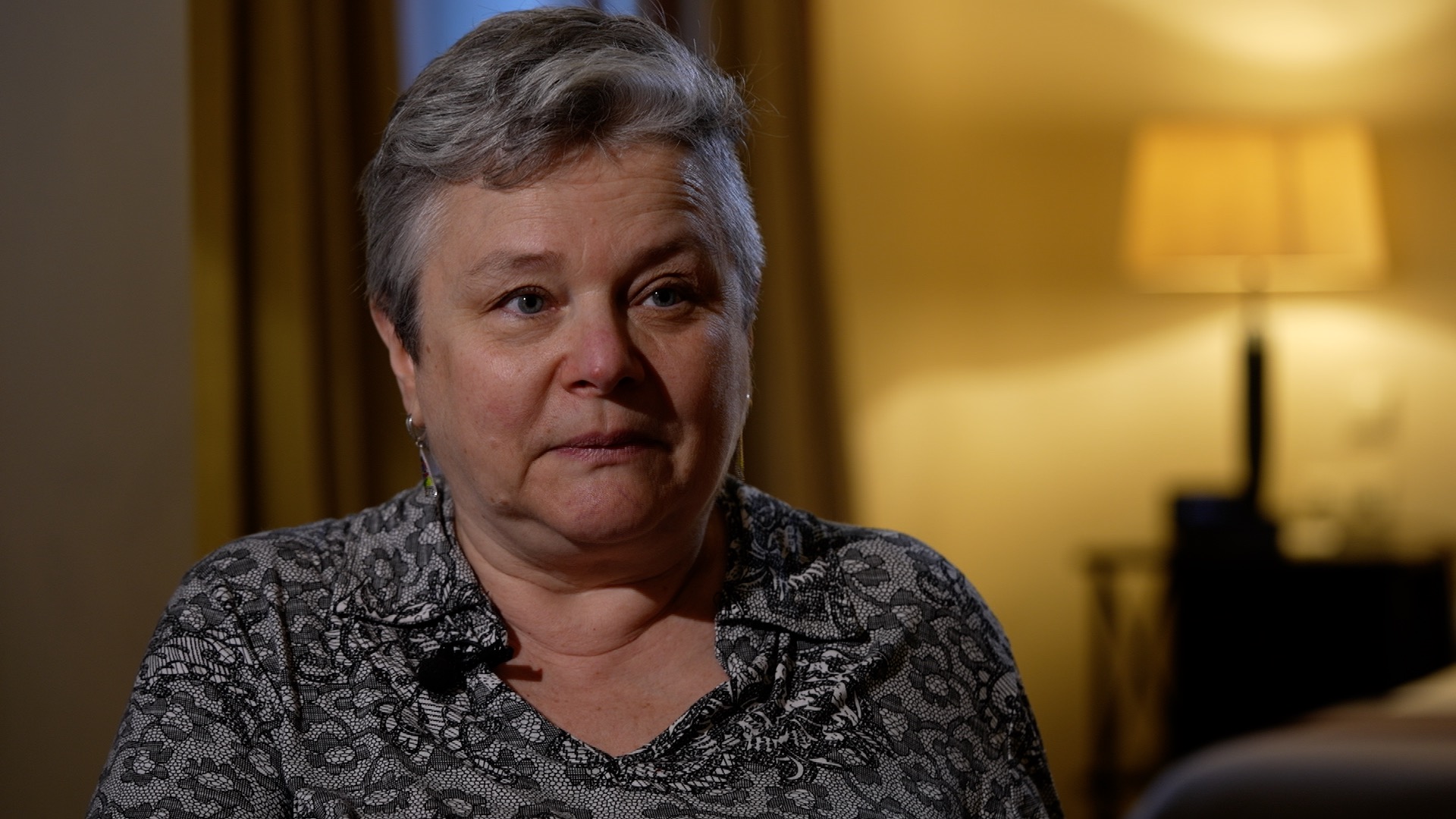 BBC
Commanders only know violence and intimidation. But you can't force people to fight.
"I knew if they kept going, they wouldn't make it out alive"
Andrei, a Russian lieutenant, stopped fighting. Deployed to Ukraine in July, Andrei was arrested for to refuse follow orders. She managed to contact her mother, Oxana, in Russia to tell her what was happening. We have also changed their names.
"He told me that he had refused to lead his men to certain death," Oxana tells me. "As an officer, he knew that if they kept going, they wouldn't make it out alive. That's why they sent my son to a detention center. I then received a text saying that he and four other officers had been held in a basement. Nobody has found them. seen in five months.
"Then they told me that the building they were in had been bombed and that the five men were missing. They said they had not found his remains. Its official status is not in action. That makes no sense. It is absurd. The way they treated my son was not only illegal, but inhumane."
Returning to Sergei, he tells me that what happened to Stas in Ukraine has brought them closer.
"We're already on the same page," he tells me. "The wall of disagreement between the two is gone. All the bravado from her is gone. My son told me, 'I never thought my own country would treat me this way.' He has completely changed. He already understands.
"People here don't understand the danger we are in. Not on the rival side. But on our own side.
This article was produced by Will Vernon. I amages of Anton Chicherov.
Now you can receive notifications from BBC Mundo. Download the new version of our app and activate them so you don't miss out on our best content.